What is JIG 3D?
JIG 3D is a simple 3D scene publisher that uses O3D. It allows you to easily import and create a 3D interactive scene for your 3D model for display in a web browser. It also includes a simple script editor and debugger so that you can directly edit your scene.

What does BETA Release mean?
JIG 3D is currently still in development phase, it's a work in progress. We are already providing a BETA public release so that you can get involved and join us in the development process. The application is not limited in anyway. As JIG moves to a Stable release it will stay in touch with O3D and WebGL developments. Again, with no limits.

Where can I get JIG 3D?
Download JIG 3D (BETA Public Release Version 0.1)
Video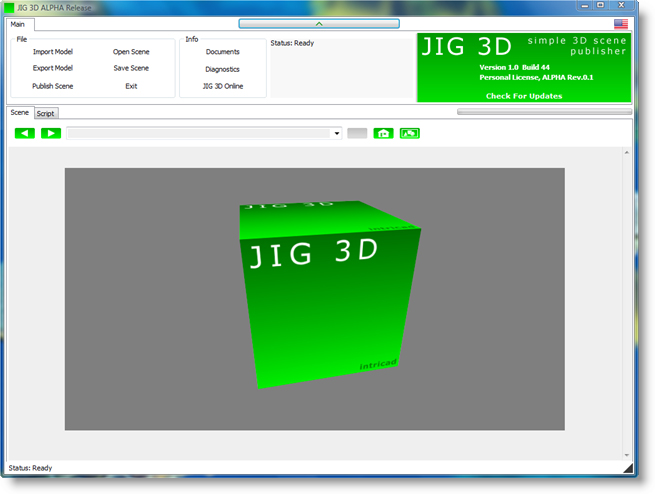 Any Samples?
View some of the samples
Features
- Import: o3dtgz, COLLADA .dae, STL(ASCII) .stl, PLY(ASCII) .ply, OBJ .obj
- Export: o3dtgz
- Open: Open O3D scenes (check out the O3D samples)
- Save: Save O3D scenes
- Publish: Publish your O3D scene
- View Your O3D Scene from within JIG 3D
- File Minification
- Simple Script Editor
- Debugging Funcitionality
- Clipboard Tracking
- Selectable Script Styler for HTML, JavaScript, XML
- Auto Run Your O3D Scene in Any O3D Supported Browser
Minimum Requirements
- Pentium 3 CPU
- 1024mb System Memory
- OpenGL Supported Graphics Card (nVidia or ATI Only)
- .NET Framework Not Required
- DirectX 9 or higher
- O3D Plugin
- O3D Sample Converter
- DirectX SDK (d3dx9_36.dll)

History
ALPHA V0.1 Private Release January 2010 Build 42
ALPHA V0.1 Public Release January 2010 Build 66
BETA V0.1 Public Release April 2010 Build 133

Current Release
BETA V0.1 Public Release April 2010 Build 136
Forum
Go to the JIG 3D intricad forum
Contact